Blog Series — The Appointment
Welcome to PART 3 of our Blog Series! This time we will be talking about what happens during your appointment. Many of you have probably been waiting for this specific blog post so you can figure out what you'll be doing on the day of the appointment. Well—its finally here!
THE DAY OF YOUR APPOINTMENT
Now that we've made it to the time of your appointment, make sure you double check that you are still eligible to receive microblading. Check out our previous blog to see if you're eligible.
Friends and family are not permitted in the procedure room with you. CDC-OSHA guidelines do not allow observers in the procedure room. No one is allowed in the room during a procedure in an effort to prevent the spread of contaminants. We are working with open skin, blood and body fluids, and are specially trained in the proper handling of all surfaces, materials and patient care for sterile and safe practices.
Family or friends can remain in the waiting room if desired. They are also welcome to participate in makeup designing.
Please note that the law prohibits the tattooing of persons under age 18.
The entire office, including our waiting room, is not equipped for children or babies. Childcare arrangements must be made prior to all appointments.
THE APPOINTMENT
First things first: Please be on time! To make sure we can spend the maximum time beautifying your brows, we need to start on time! Most appointments last typically around 2 hours. So make sure you prepare to stay here for that time. The first half of the appointment will not be the actual procedure. We will start by taking photos of your face with your current brows and then sketch on a new brow shape. We use several different measuring tools and your bone structure to find the proper placement for your new brows.  Nicole will outline the desired brow shape using a regular brow pencil. This will act as a guideline for the microblading procedure (think: coloring inside the lines!). You'll be able to look at the shape with Nicole and discuss the shape, width and overall symmetry of the brows. This portion will typically take up to 1 hour of your appointment, so please be patient!
Once the brows have been approved by you, we can get started on the fun stuff! Nicole will apply a topical anesthetic to your brow area to ensure your comfort during the procedure. While the topical anesthetic is doing its magic, Nicole will set up her tray and select colors based on your skin type and hair color. After 15 – 25 minutes, the anesthetic will be removed and we're ready to start the microblading procedure!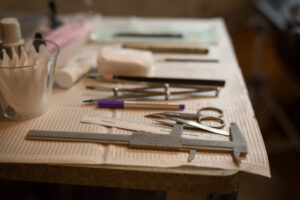 Now that the set up is complete, its time to get your brows done! The procedure is performed using a hand tool with tiny needle groupings that are designed to deposit pigment into the skin to mimic actual hairs resulting in a natural appearance. We use all individually pre-packaged, sterile and disposable needles, unlike many technicians that re-use or sterilize via an autoclave the various components of their equipment. We use state of the art advanced digital machines and hand tools. The Pink Door follows all OSHA and State Health Department regulations to ensure that you will receive the safest, most sterile form of cosmetic tattooing available.
Once Nicole finishes microblading, the pigment will appear too dark. You can expect that it will "heal, peel and fade" after about one week. The color is usually about 30-40% lighter when healed than it appears the day of the procedure. Don't freak out! It will look amazing when it's healed.
Nicole will take photos of your brows after the procedure and send you home with some aftercare instructions. Stay tuned for the next blog post for a detailed look at aftercare!